Just like we don't mind when our best friends make fun of us and embarrass us in the most inappropriate surroundings, there are many of us who don't equally mind it when this best friend is not human but is our four-legged friend.
Our beloved pets are all game when it comes to embarrassing and humiliating us in front of guests. They would pee and poop at the most unwanted places, would run away with food and would probably jump onto clean sheets with the dirtiest of paws. But, that is alright as we love them so much.
Anatole France has rightly said, "Until one has loved an animal, a part of one's soul remains unawakened."
Some of the pet owners share the most embarrassing stories they faced. Read in here and roll on the floor laughing…
Rolling And Spoiling
How would you react if the back of your newly custom-made sofa has a rare piece of painting on it? Oh no, don't be that happy. The canvas is painted by your dog! Imagine your dog rolls over into the backyard fields and enjoys that wet manure all over his body. And then what he does next is some painting onto your sofa; imprinting his dirty muddy paws. Well, that will surely blow away my mind quite literally.
Is That A Seal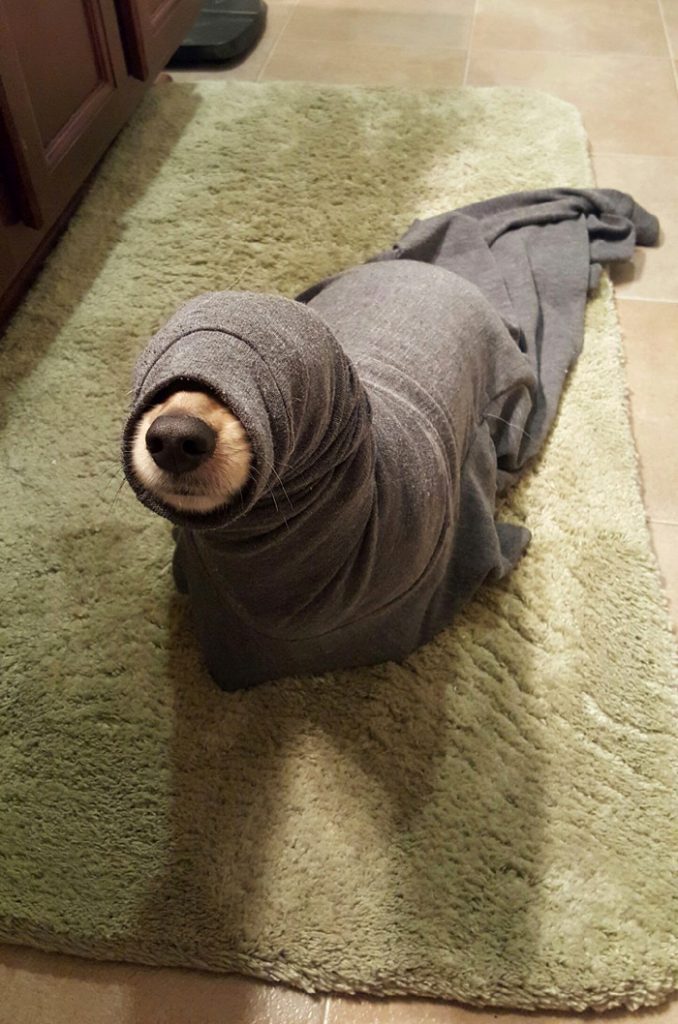 One of the dog owner's share their story of a dog turning into a seal. Yes, you read that right. The man was not able to find his grey sweatshirt and literally searched the entire house to find that. Later on, when he stepped into the bathroom he was taken aback by what he saw. It was a seal in there. No, not exactly was it a seal but his dog which got inside his lost grey sweatshirt. The dog definitely looked cute which made the man capture him in his sweatshirt.
That Pizza Slice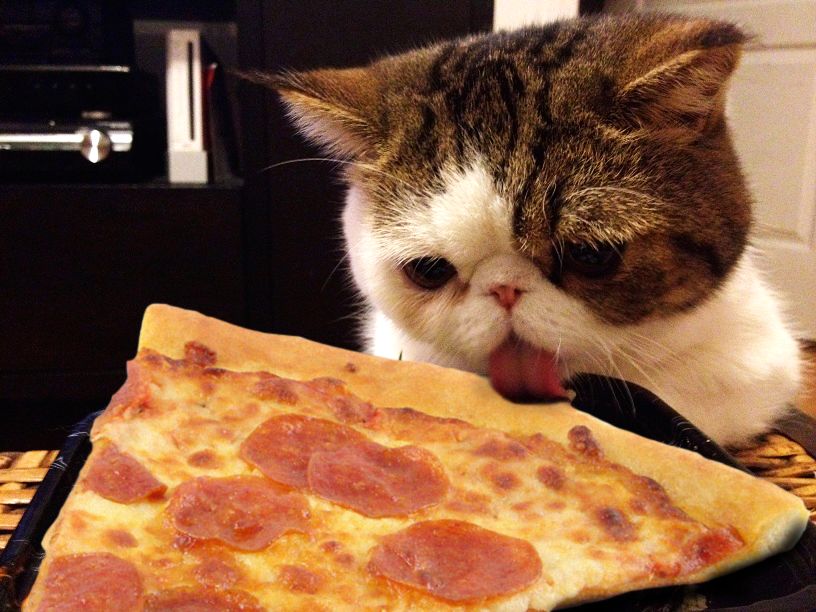 That last slice of pizza belongs to me and not to you my cat. The keeper of this cat will surely be irritated at this one. This cat licked that slice of pizza and seems interested in having the entire one. No one would even offer a bite of pizza from their slice. What if it turns out to be the last slice of that deluxe pizza? Definitely,  one would never want to give away the last piece. And so is this cat, not giving over this one.
 You Scared Me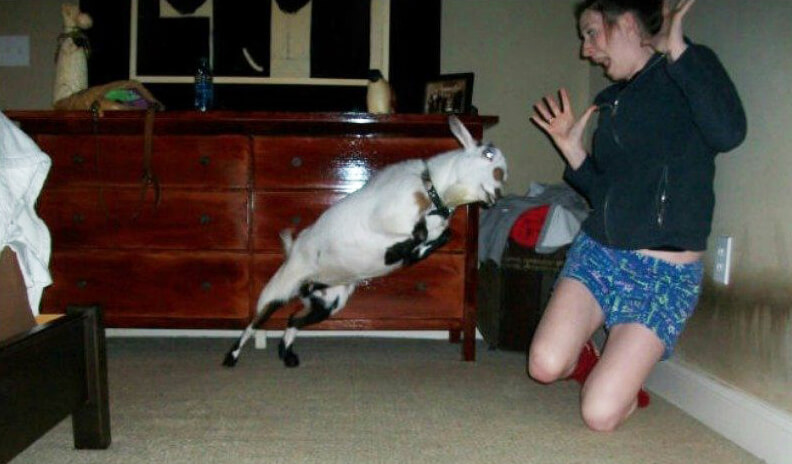 How much fun is it to plan a prank on your friend especially when it means scaring her out. You enter your living room after a tiring day and switch on the television and march your way to the sofa. And suddenly what comes in your way is a bumping goat.
Definitely, your reaction would not be any less than that of this girl. Your tiredness will fade away and you will freak. But this will surely make your friends laugh hard.
Chesney Announced Pregnancy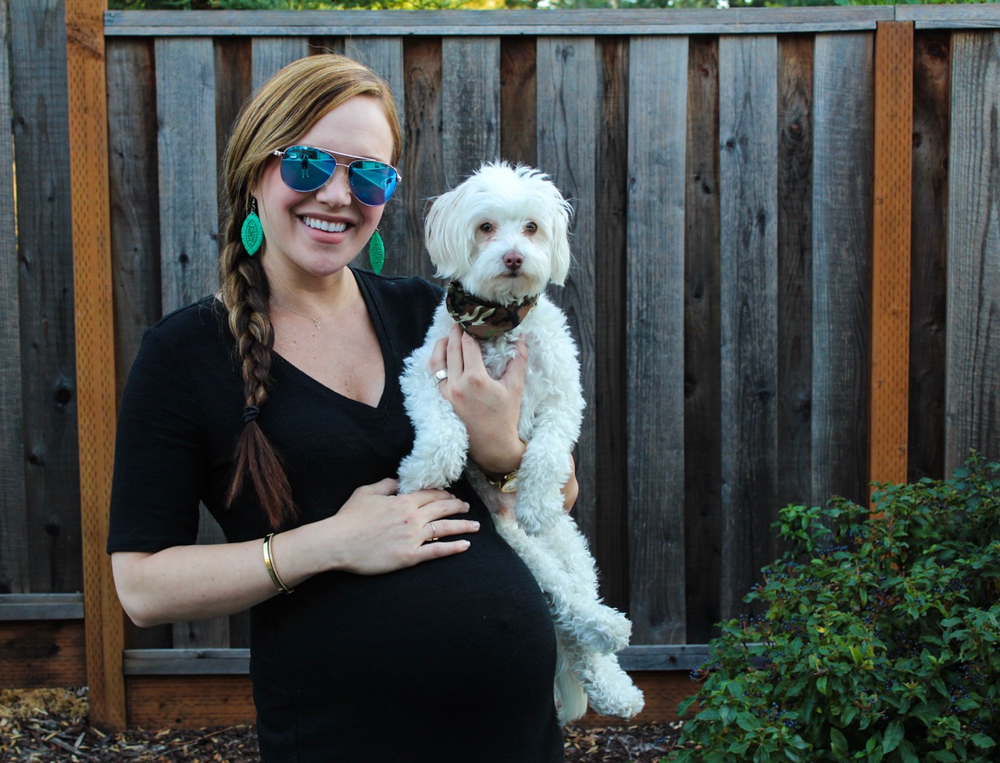 While most of us would not disclose the pregnancy news in our first trimester, who would have imagined that our dog would predict it? But wait, how did an animal do that?
Chesney, a poodle had this strange habit of snuggling over pregnant women. Once a colleague of the poodle's owner visited her and was irritated by Chesney's repeated snuggles. However, the owner being aware of this strange habit of her pet's did not comment on anything. Weeks later when her colleague broke her pregnancy news to everyone, the poodle's owner smirked.
Well, who would have even thought that a dog will pre-announce the good news?
Save Me The Baboons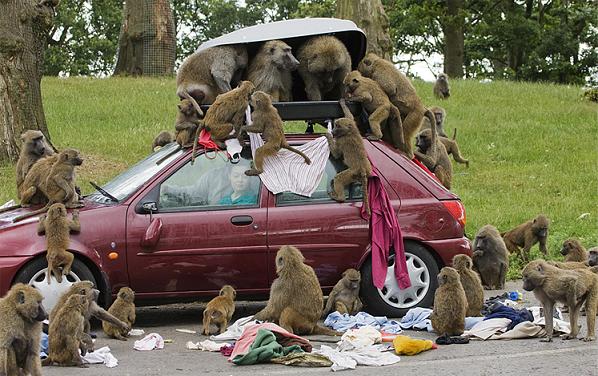 It seems as if the baboons are having a good time with that luggage. Who would have even thought that the luggage which took you a couple of hours to be packed, would be unpacked in seconds; that too by a gang of baboons. This sight must have been an amusing one which compelled the onlooker to click its picture.
The lady just saved her life by sitting in the car and rescuing herself from the attack of this gang of baboons. But these animals look quite in a playful mood and seem helping the lady with her wardrobe.